Business Papers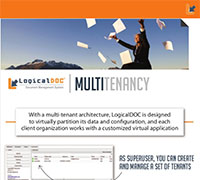 With a multi-tenant architecture, LogicalDOC is designed to virtually partition its data and configuration, and each client organization works with a customized virtual application.

Discover how to save your costs by sharing services with logicaldoc multitenancy.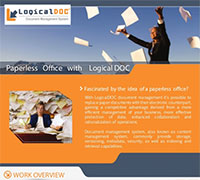 Fascinated by the idea of a paperless office? With LogicalDOC it's possible to replace paper documents with their electronic counterpart, gaining a competitive advantage derived from a more efficient management of your business, more effective protection of data, enhanced collaboration and rationalization of operations.

This interesting reading shows you how easy is to switch to a paperless office.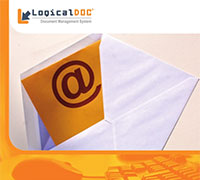 A Document Management System is crucial to steer business processes and to ensure that people have access to the right information; whenever they want and wherever they are.

This white paper describes 10 steps to a successful implementation of a (Electronic) Document Management System.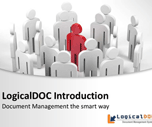 LogicalDOC is an enterprise electronic document management system that can be used by companies large and small as a flexible and low-cost way to effectively manage records.

This presentation will give you a quick overview of LogicalDOC and its features.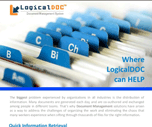 The biggest problem confronting organizations in all industries is the distribution of information. Numerous documents are generated each day; many are co-authored, revised, and exchanged among individuals or teams of employees.
This paper discusses the most important areas where LogicalDOC can improve your business' efficiency.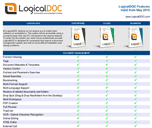 LogicalDOC is a document management platform that allows you to optimize your research by searching through documents using parameters, keywords, or content (full-text).
The advantage of LogicalDOC is its simplicity in both data entry and document retrieval. Use this detailed comparison matrix to check what features are included in the different editions of the product.
Videos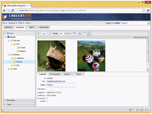 LogicalDOC is integrated with Dropbox allows you to export and import documents and folders between both applications. With this feature you can: Export documents into your Dropbox account, Export folders into your Dropbox account, Import documents from your Dropbox account, Import folders into your Dropbox account.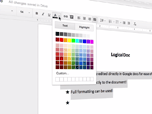 With the Google Docs integration feature, you will be able to edit documents, presentations, spreadsheets directly through your browser. Multiple users can edit the same document at the same time, this way you can improve the collaboration experience with colleagues and co-workers. No matter what device you are using or where you are, you just need a browser and an internet connection in order to update a document!
LogicalDOC Mobile simplifies access to documents and work with colleagues wherever you are. You can download a document, work on it and send the updated version to the repository. You can also download a document and email it directly from your device. All this keeping track of document versions and historical data that are always accessible.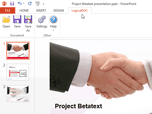 In this video you will see a demostration of the powerful features of the Microsoft Office integration tool. With a single click you can launch directly from the LogicalDOC GUI the appropriate application and start revising a document. Other features include creation of document from inside Office programs like Word, Excel and Powerpoint.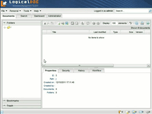 This video is a brief overview of the basic features of LogicalDOC; we start from the presentation of the document' areas on the screen, followed by the creation of a folder and upload of a document. Finally shows the Drop-Spot feature that lets you quickly upload documents from your desktop PC.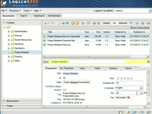 Even when you have thousands of documents to manage, you still must be able to quickly locate the one file that contains the information you need. LogicalDOC simplifies the storage and retrieval of documents by allowing attributes and properties to be added to the files. This makes it easier to categorize and locate the document you need.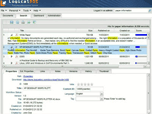 By leveraging the best of breed indexing technologies, LogicalDOC automatically indexes the complete contents of documents in the repository. Different algorithms are applied depending on the language of the document so that the search will be very tailored and able to detect word variants that are specific for a particular language. In this video, you will see how fast and easy it is to find the information you need when you need it.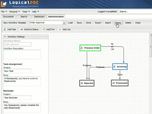 Documents have a life cycle during which they must be routed to the right person for editing and approval. This is particularly true in large organizations that have a great number of business processes being carried out simultaneously. Watch this video to see how you can design real business processes using the LogicalDOC integrated designer.